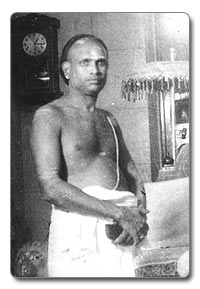 Late Sri. M. Vaidyanatha Sthapati
Sthapati R. Selvanathan hails from an illustrious family of Temple Architects and Sculptors, having an unbroken lineage of more than hundred decades. He belongs to the 38th generation in the family of the celebrated Sthapati Kunjaramallan Rajaraja Perunthachan (11th century AD) who designed and built the great Brihadeeshwara Temple of Tanjore, the architectural epitome of Indian Art and Architecture.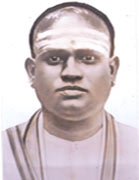 Late Sri. M. Vaidyanatha Sthapati
Sri Vaidyanatha Sthapati, the grandfather of Sri.R.Selvanathan , a renowned scholar in the field of Shilpa shastra, Agama,Astrology,Astronomy and Sanskrit was the recipient of National Award for Master craftsmen in 1963.
He was the builder of the famous memorial mandapam for Mahathma Gandhi in Chennai, Tamilnadu. This prestigious project was awarded to him for his excellence in this traditional field of Architecture and Sculpture.
He also built a huge temple with a Dhyana mandapam for His Holiness Bhagavan Ramana Maharishi in 1950s. A striking sculpture of Bhagavan Ramana Maharishi in green stone was carved by Sri Vaidyanatha Sthapati during the life time of Bhagavan who appreciated his own stature enormously.
Sri Vaidyanatha Sthapati traveled the length and breadth of Tamilnadu and built many a marvel, most of those temples are in granite stone. The famous temples like Mathur Sivan Temple, Embal Sivan Temple and Salem Sugavaneshwarar temple are known for their architectural and sculptural beauty have been constructed by him.
He has traveled to Sri Lanka along with his father Sri Mahilavanam Sthapati to construct Sri Ponnambalavaneshwar Temple in Colombo, Sri Shivan Temple in Triconamallee and other temples in the vicinity of Colombo.


Late Sri. M. Vaidyanatha Sthapati with Bhagavan
March 1949

Late Sri. M. Vaidyanatha Sthapati during project inspection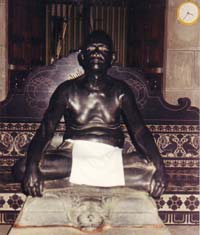 Bhagavan Ramana Maharishi in green stone carved by Late Sri. M. Vaidyanatha Sthapati
After the independence under the tenure of H'ble Prime Minister Jawaharlal Nehru, Art and crafts were given key importance. To uplift this age old tradition Madam Kamaladevi Chatopadhyaya , the saviour of Indian art and crafts, identified Sri M. Vaidyanatha Sthapati in Tamilnadu with proficient knowledge in the field. He then was asked to establish a school with the government's support for the traditional Art , Architecture and sculpture at Mahabalipuram in South India. This technical institution was only one of its kind in India. After the tenure of Sri.Vaidyanatha Sthapati in this technical institution Dr.V.Ganapathi sthapati, the eldest son of the family, took the mantle on his hand and further developped the instituion with a recognition of college affiliated to Madras University. Today most of the students from this Institution are propagating the traditional architecture and sculpture in India and all around the world.
Its a pride for Sthapati Selvanathan who is also a product from this Institution that was long established by his grandfather, Sri.Vaidyanatha Sthapati.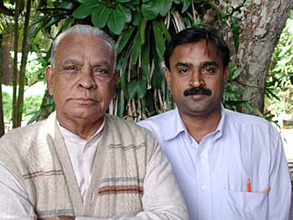 Sthapati with his Guru Dr.v.Ganapathi Sthapati